The latest edition of the One World Centre Library newsletter is now available. Contents include:
The Global Climate Strike and the UN Climate Summit;
UN Sustainable Development Goal 13: The Climate Action Goal;
Sustainable Schools: WA's own Climate Action Schools;
Climate Action and Global Education – changing minds, not the climate;
New additions to the One World Centre Resource library; and
Upcoming workshops for Early Childhood and Primary Educators on STEM and Aboriginal and Torres Strait Islander elaborations for the Science Curriculum.
Click on the image below to read the newsletter in full.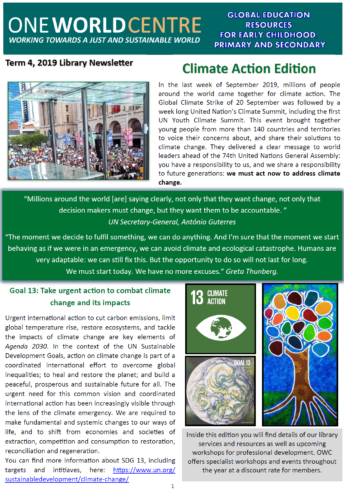 Click [HERE] for current and past Library Newsletters.
Click [HERE] for upcoming Workshops and Events.