We hope you have had an opportunity to participate in the fantastic range of events celebrating the cultures and identities of Indigenous Australians this NAIDOC week.
2019 is the International Year of Indigenous Languages and this year's NAIDOC week celebrations are focused on the significance of Aboriginal languages to history, culture and identity in Australia. 'Voice', 'Treaty', and 'Truth' were key elements of the Uluru Statement from the Heart and express the longstanding call for the meaningful and effective inclusion of Aboriginal voices in all levels of Australia's democracy.
This year's NAIDOC week corresponds with the Public School Holidays in Western Australia. Learning alongside and about Australia's First People, however, extends across the curriculum and throughout the year, and it is also essential lifelong learning for every Australian.
Further information about the One World Centre's library resources and workshops to enrich learning about Aboriginal and Torres Strait Islander histories and cultures can be found in our latest newsletter.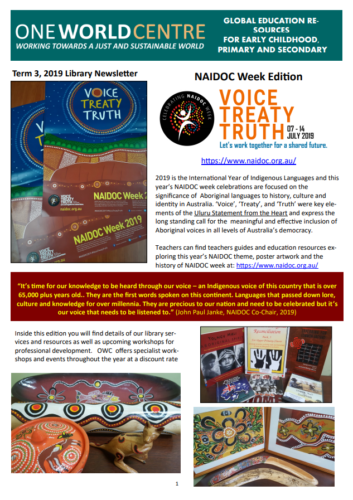 Here are some links to other resources to help educators bring Aboriginal and Torres Strait Islander histories and cultures into the classroom for NAIDOC week and beyond.
National NAIDOC Week Committee
Teachers can find teachers guides and education resources exploring this year's NAIDOC theme, poster artwork and the history of NAIDOC week at: https://www.naidoc.org.au/resources/teaching-guides
SBS Learn
SBS Learn, in cooperation with the National NAIDOC Committee, have produced a series of downloadable resource kits for Primary and Secondary schools. These are available at https://www.sbs.com.au/learn/naidoc.
ABC Education
ABC Education Online includes a collection of resources under the Topic: Aboriginal and Torres Strait Islander histories and cultures
"Discover Aboriginal and Torres Strait Islander history and culture. There are features on Aboriginal languages, National Sorry Day, Dreamtime, Indigenous art, Vincent Lingiari and much more. Supports the teaching of Aboriginal and Torres Strait Islander history as part of the Australian Curriculum."
http://education.abc.net.au/home?fbclid=IwAR1CvDclb6SeAhLnTlugsO60dZfs2-8zIu4rF-hl7jNtljtUFvc64CTPJwE#!/topic/494038/aboriginal-and-torres-strait-islander-histories-and-cultures
ABC Listen – Little Yarns for Little People

"Little Yarns is a new podcast for children celebrating the languages and cultures of our First Nations peoples."
https://www.abc.net.au/kidslisten/ideas/earlylearning/little-yarns/11225658?fbclid=IwAR1j9wzgOaJa3EpS1CK_g_TrvmQxdhPiB6lCUzNosES6CQ1kXAicPI_LwSE