Teaching and Learning for SDG 2: Zero Hunger
CONTENTS
Learning Objectives, Teaching Methods and Topics
---
SDG2: OVERVIEW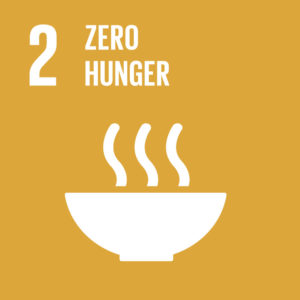 "Goal 2: End hunger, achieve food security and improved nutrition and promote sustainable agriculture
It is time to rethink how we grow, share and consume our food.
If done right, agriculture, forestry and fisheries can provide nutritious food for all and generate decent incomes, while supporting people-centred rural development and protecting the environment.
Right now, our soils, freshwater, oceans, forests and biodiversity are being rapidly degraded. Climate change is putting even more pressure on the resources we depend on, increasing risks associated with disasters such as droughts and floods. Many rural women and men can no longer make ends meet on their land, forcing them to migrate to cities in search of opportunities.
A profound change of the global food and agriculture system is needed if we are to nourish today's 815 million hungry and the additional 2 billion people expected by 2050.
The food and agriculture sector offers key solutions for development, and is central for hunger and poverty eradication." " *Source: United Nations Sustainable Development Goals / Goal 2 /
For facts and figures, targets and links for SDG 12 go to the United Nations Sustainable Development Goals Pages –  UN SDGS: GOAL 2
ZERO HUNGER – WHY IT MATTERS (pdf) (2 pages)
---
SDG 2: LEARNING, OBJECTIVES APPROACHES AND METHODS

SDG2: Learning Objectives, Approaches and Methods (2 pages)
Source: Education for the Sustainable Development Goals: Learning Objectives (UNESCO, 2018)
---
SDG2: ONLINE RESOURCES

SDG RESOURCES FOR EDUCATORS – ZERO HUNGER
Collection of pedagogical and teaching resources for educators from UNESCO. Includes sections for early childhood, primary and secondary education. https://en.unesco.org/themes/education/sdgs/material/02
WORLDS LARGEST LESSON for SDG 2
Every Plate Tells A Story (9-14 ): http://worldslargestlesson.globalgoals.org/global-goals/no-hunger/
Food Tales (9-14): http://cdn.worldslargestlesson.globalgoals.org/2017/07/Food-Tales-for-the-Global-Goals-May-2018-edits.pdf
The Human Face of Food (9-14): http://cdn.worldslargestlesson.globalgoals.org/2017/07/The-Human-Face-of-Food-May-2018-Edits.pdf
Food production and consumption connected lessons and action are also collected under the theme of PLATE PIONEERS. 
The Global Goals Food Project – Every Plate Tells a Story: http://cdn.worldslargestlesson.globalgoals.org/2017/07/WLL-Worksheet.pdf
OUR WORLD IN DATA
 Teaching Notes
"Topic One:Extreme Poverty"
https://slides.ourworldindata.org/teaching_notes/ch2/hunger#/title-slide
"Topic2: Hunger and Malnutrition"
https://slides.ourworldindata.org/teaching_notes/ch2/hunger
OXFAM

INFORMATION: "While the food system is complex and its problems multi-faceted, we know that the world's largest food and beverage companies have enormous influence. Their policies drive how food is produced, the way resources are used and the extent to which the benefits trickle down to the marginalised millions at the bottom of their supply chains. Oxfam's Behind the Brands campaign aims to provide people who buy and enjoy these products with the information they need to hold the Big 10 to account for what happens in their supply chains." Source: https://www.behindthebrands.org/about/
Behind the Brands Company Scorecard (2016)
Report: Behind the Brands: Food Justice and The Big 1o Food and Beverage Companies(2013)
Report: The Journey to Sustainable Food – Three year Update (2016)
YUNGA – Youth and United Nations Global Alliance
 Ending Hunger Challenge Badge (pdf) (124 pages) http://www.fao.org/3/a-i3466e.pdf
UNEP and FAO – FOOD AND AGRICULTURAL ORGANISATION OF THE UNITED NATIONS

UNEP – VIDEO – Why do we need to change our food system? (3.46min) https://www.youtube.com/watch?v=VcL3BQeteCc
ZERO HUNGER CHALLENGE Campaign
" The Zero Hunger Challenge: Transforming our Food Systems to Transform our World . The Zero Hunger Challenge was launched by United Nations Secretary-General Ban Ki-moon in 2012. The Zero Hunger vision reflects five elements from within the SDGs, which taken together, can end hunger, eliminate all forms of malnutrition, and build inclusive and sustainable food systems." Page: http://www.un.org/en/zerohunger/challenge.shtml
Zero Hunger Challenge Brochure: "Pathways to Zero Hunger" (pdf, 12p): http://www.un.org/en/zerohunger/pdfs/ZHC%20-%20Pathways%20to%20Zero%20Hunger.pdf
UNEP, FAO "Think, Eat, Save" Campaign Pages: www.thinkeatsave.org
Links to media, resources, education pages, toolkits and more.
TOOLKIT: FAO Reducing the Food Wastage Footprint (pdf, 100p) http://www.fao.org/docrep/018/i3342e/i3342e.pdf
FOODKIT: UNEP Global Anti-Food Waste Campaign Toolkit (UNEP, pdf download): http://www.fao.org/un-expo/en/multimedia/foodkit-uneps-global-anti-food-waste-campaign-toolkit.html
FAO World Food Day 2017 Activity Book – Focus – Migration (pdf, 20p)
FAO World Food Day 2016 Activity Book – Focus – Climate (pdf, 20p)
FAO_ VIDEO – Food Wastage Footprint (3 min) – https://www.youtube.com/watch?v=IoCVrkcaH6Q
FAO – Sustainability Pathways – Food Loss and Waste – http://www.fao.org/nr/sustainability/food-loss-and-waste
FAO Working for Zero Hunger (Activity Book 2018): http://www.fao.org/3/i9420en/I9420EN.pdf
FAO: Food, Agriculture and the SDGs
Food Agriculture: Key to Achieving the 2030 Agenda for Sustainable Development. (FAO, 2015)
CARITAS Australia
CARITAS AUSTRALIA Home Page: https://www.caritas.org.au/
Global Issues – "Food Security and Sustainable Agriculture": https://www.caritas.org.au/learn/global-poverty-issues/food-security-and-sustainable-agriculture
WORLD VISION AUSTRALIA
World Vision – Global Issues – Famine and World Hunger: https://www.worldvision.com.au/global-issues/work-we-do/famine
Global Food Inequality Simulation Game (pdf): https://www.worldvision.com.au/docs/default-source/school-resources/global-food-inequality—simulation-game-instructions.pdf?sfvrsn=0
Get Connected: Food Security: https://www.worldvision.com.au/get-involved/school-resources/detail/get-connected-food-security
"This issue of Get Connected: Food Security is FREE to download. It explores issues of food insecurity and how global citizens respond to these challenges. Inside you'll find up-to-date case studies from Bangladesh and Timor-Leste, a debate on genetically modified crops and a food supply chain. This resource also features written and digital texts, photographs, a climate graph, map reading and cloze activities that help students understand food security. This issue addresses the Australian Curriculum in Geography, English, Civics and Citizenship, and Food Technology."
GLOBAL EDUCATION AUSTRALIA
FOOD SECURITY Resource Page – includes teaching activities, resources and more. http://www.globaleducation.edu.au/global-issues/gi-food-security.html
WORLD FOOD PROGRAMME (WFP)
WFP Home Page: http://www1.wfp.org/
FAST COMPANY
The Future of Food: 2038
"A science-fiction look at the next two decades of food developments, from robot farmers to 3D-printed meals to government monitoring of your daily calorie intake."
This article about what food will look like in 2038 could be used as a way of stimulating questions and critical discussion around the challenges we face in our food system, the types of changes we can make and the system wide impacts of innovations. https://www.fastcompany.com/90222618/what-the-future-of-food-will-look-like-in-2038
Online block-chain enabled food tracking platform – OpenSC
"OpenSC uses cutting edge technology to track individual products from origin to consumer. The aim is to help businesses and consumers avoid illegal, environmentally damaging or unethical products, while improving supply chain accountability and transparency."
http://www.refreshedschools.health.wa.gov.au/
"Refresh.ED is a comprehensive online resource to help teachers introduce food and nutrition in classrooms from kindergarten to year 10. On this website you will find classroom teaching materials as well as professional learning materials to enhance teacher knowledge and confidence to teach nutrition. Teaching and learning materials are based on research into nutrition education.
Age-appropriate teaching units address content descriptions in different learning areas of the Australian Curriculum.  Food and drink sources, choice, experience and links to health are all covered by the units, which include integrated learning tasks, worksheets, black-line masters and links to songs, stories, current affairs and online video clips."
FOOD, WATER, LAND: Fundamental Human Rights. Quaker Service of Australia and AusAid. 22 pages. https://qsa.org.au/resources/food-water-and-land.pdf
Explores the themes of human rights and global inequality in relation to access to food, water and land around the world.
---
SDG2: ONE WORLD CENTRE RESOURCES

HOT TOPIC: SUSTAINABLE FOOD AND FIBRES
SELECTED RESOURCES AVAILABLE FROM THE OWC LIBRARY

OWC Global Education Project Publications
Some of these publications may be downloaded from the OWC Publications page OR borrowed in hard copy from the OWC library as "class sets".
PRIMARY
Food For All (2008) (Available as a class set from the OWC library)
SECONDARY
A 'silent tsunami': Global Food Security in the 21st century (2008)
The A 'Silent Tsunami': Global Food Security in the 21st Century (2008) booklet investigates the issue of food security, equity and sustainability. Freedom from hunger is a fundamental right but, despite many international commitments, many people still miss out for environmental, economic, political or social reasons.
Download from the Global Education Publications website: http://www.globaleducation.edu.au/publications/a-silent-tsunami.html or borrow a class set from the OWC library.
---
SDG2: ARTICLES
News and reports on food, food security and sustainable development from around the world.
Gilbert Nakweya ."Urban Agriculture Could Transform Food Security" (SciDev.Net, 13/10/2018)(SDG2, SDG11, Africa, Science, Technology and Development)
African urbanites consider farming as activity of rural dwellers. Innovative urban agriculture could increase food security in African cities, but there is a need for use of agricultural innovations created locally. https://www.scidev.net/sub-saharan-africa/sustainability/news/urban-agriculture-could-transform-food-security.html
Crystal Ho, "Why is Asia so Food Insecure?" Eco-Business.
"One in nine people around the world are hungry—a total of 821 million people worldwide. But global food security is actually improving, with over 70 per cent of countries strengthening their scores in this year's Global Food Security Index (GFSI).
But only two countries from Asia-Pacific feature in the index's top 10, with Singapore topping the list for the first time and Australia ranking sixth. At the bottom of the rankings, Laos, Cambodia, Bangladesh and Myanmar are positioned among the world's least food-secure countries, most of which are in Africa." https://www.eco-business.com/news/why-is-asia-so-food-insecure/?utm_content=buffer72ab9&utm_medium=social&utm_source=facebook&utm_campaign=buffer
Leon Kaye. "What are the root causes of food insecurity?" Triple Pundit.
"Earlier this month, the Economist Intelligence Unit (EIU) issued its Annual Global Food Security Index. This year's survey, which evaluated data from 113 countries, sheds light on which nations have the most robust – and vulnerable – food supplies. The world's population could surge to 9 billion people by 2050, which means governments, the private sector and nonprofit organizations need to find creative yet more sustainable ways to meet increasing demand for food – planning that should have launched many yesterday's ago.
EIU researchers evaluated three core challenges that each and every one of us considers when we shop for food: affordability, availability and quality." https://www.triplepundit.com/2018/10/what-are-the-root-causes-of-food-insecurity/?fbclid=IwAR0alrI34T2HAS7UYqhQno7hK_qTeWogcr9bdnzQ2ji-pvg8Q8RGtyMvplM