THE ONE WORLD CENTRE AND THE UN SUSTAINABLE DEVELOPMENT GOALS
As part of its commitment to global and transformative education, The One World Centre provides information and resources to assist individuals, schools and communities to engage meaningfully with the Global Goals and to take part in this unprecedented worldwide action of common humanity for the future of our common home.
"The people of the world have asked us to shine a light on a future of promise and opportunity. Member States have responded with the 2030 Agenda for Sustainable Development… It is an agenda for people, to end poverty in all its forms. An agenda for the planet, our common home. An agenda for shared prosperity, peace and partnership." (UN Secretary General – Ban Ki Moon, 2015)
SDG RESOURCES FOR TEACHERS AND LEARNERS
Introductory information about AGENDA 2030 and the UN SUSTAINABLE DEVELOPMENT GOALS.
THE UN SUSTAINABLE DEVELOPMENT GOALS – HOT TOPIC
Online collections of resources for teaching and inquiry projects on the Global Goals, from the UN and other international organisations such as Oxfam and WWF. Also includes links to Australian and Western Australian SDG-Active organisations.
UNESCO CURATED RESOURCES FOR EDUCATORS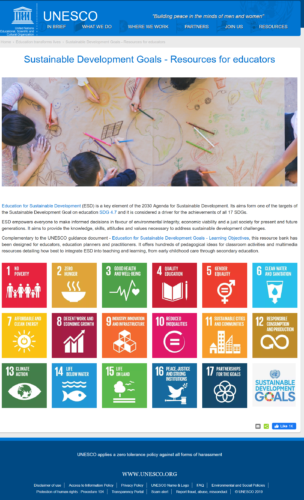 "This resource bank is designed for educators, education planners and practitioners and includes hundreds of materials and resources detailing how best to integrate ESD into teaching and learning in order to achieve the targets of the SDGs. It offers pedagogical resources, ideas for classroom activities, multimedia education resources and good practices for each of the 17 SDGs, as well as global SDG resources designed for three education levels: early childhood care and education, primary education and secondary education."
It is complementary to the document the UNESCO guidance document – Education for Sustainable Development Goals – Learning Objectives, 2018.
ONE WORLD CENTRE WORKSHOP DOCUMENTS
Includes powerpoints, handouts and other workshop resources from OWC workshops on global education and the SDGs
UNAA WA SCHOOLS PROGRAMS
To find o
ut about and participate in the Global Goals Challenge, Student Parliaments, and other Global Goals related activities for students in Western Australia see:
UNAA WA GLOBAL CITIZENSHIP PROGRAMS FOR SCHOOLS