Teaching And Learning for SDG 12 – Responsible Consumption and Production
CONTENTS
Learning Objectives, Approaches and Methods
Western Australian Resources and Links
Articles
---
SDG 12: OVERVIEW
"Goal 12: Ensure sustainable consumption and production patterns
Sustainable consumption and production is about promoting resource and energy efficiency, sustainable infrastructure, and providing access to basic services, green and decent jobs and a better quality of life for all. Its implementation helps to achieve overall development plans, reduce future economic, environmental and social costs, strengthen economic competitiveness and reduce poverty." *Source: United Nations Sustainable Development Goals / Goal 12 /
For facts and figures, targets and links for SDG 12 go to the United Nations Sustainable Development Goals Pages –  UN SDGS: GOAL 12
Responsible Consumption and Production: Why it Matters (pdf) (2 pages)
---
SDG 12: LEARNING OBJECTIVES, APPROACHES AND METHODS

*The following learning approaches and methods can be used to facilitate learning about sustainable production and consumption:
Examples of learning approaches and methods for SDG12 'Responsible Consumption and Production'
Calculate and reflect on one's individual ecological footprint
Analyse different products (e.g. cell phones, computers, clothes) using Life Cycle Analysis (LCA)
Run a student company producing and selling sustainable products
Perform role plays dealing with different roles in a trading system (producer, advertiser, consumer, waste manager, etc.)
Screen short films/documentaries to help learners understand production and consumption patterns (e.g. Story of Stuff by Annie Leonard)
Develop and run a (youth) action project related to production and consumption (e.g. fashion, technology, etc.)

Develop an enquiry-based project: "Is sustainability about giving things up?
*Source: Learning Approaches and Methods from A. Leicht, J. Heiss and W. J. Byun (eds), Issues and Trends in Education for Sustainable Development (UNESCO, 2018).
---
Summary of the importance of education about responsible production and consumption for sustainable development, including learning objectives, approaches and methods. [5 pages] This summary also includes links to sources of information for lifecycle analysis and footprint calculation.
Summary: Sustainable production and consumption [5 pages]
Source: Marco Rieckmann. "Key themes in Education for Sustainable Development". Issues and Trends in Education for Sustainable Development (UNESCO, 2018). pages 74-78

Table of Learning Objectives, Topics and Methods from Education for the Sustainable Development Goals (UNESCO, 2018)
SDG 12: Learning Objectives [2 pages]
Source: Education for the Sustainable Development Goals: Learning Objectives (UNESCO, 2018)
---
SDG12: ONLINE RESOURCES

SDG RESOURCES FOR EDUCATORS – Responsible Consumption and Production
UNESCO pedagogical and teaching resources for educators teaching SDG12. Includes early childhood, primary and secondary sections. https://en.unesco.org/themes/education/sdgs/material/12
Sustainable Lifestyles – Options and Opportunities (UNEP, 2018) (PDF publication)
World's Largest Lesson – Understanding Sustainable Living –  http://cdn.worldslargestlesson.globalgoals.org/2016/06/Understanding-Sustainable-Living.pdf
(Upper Primary – Secondary)
This lesson evaluates various lifestyle choices for sustainability using an online ecological
footprint calculator to real-life data (hard copy of the ecological footprint calculator is available with the lesson). Footprint Calculator Website: www.footprintnetwork.org
ABOUT: "Earth Overshoot Day is hosted and calculated by Global Footprint Network, an international think tank that coordinates research, develops methodological standards and provides decision-makers with a menu of tools to help the human economy operate within Earth's ecological limits."
"Earth Overshoot Day marks the date when we (all of humanity) have used more from nature than our planet can renew in the entire year. In 2018, it fell on August 1. We are using 1.7 Earths. We use more ecological resources and services than nature can regenerate through overfishing, overharvesting forests, and emitting more carbon dioxide into the atmosphere than ecosystems can absorb."
WWF Australia has an ecological footprint calculator at: http://www.wwf.org.au/get-involved/change-the-way-you-live/ecological-footprint-calculator
Life Cycle Analysis (LCA)

The Life Cycle of a Jean. Levi Strauss. PDF. http://www.levistrauss.com/wp-content/uploads/2015/03/Full-LCA-Results-Deck-FINAL.pdf
Produced by the Levi-Strauss company, the document explains LCA (life cycle analysis/assessment) and provides a LCA of the environmental impact of a pair of Levi jeans.
The Life Cycle of a T-Shirt – Angel Chang – TEDEd.
YOUTUBE VIDEO: https://youtu.be/BiSYoeqb_VY
TEDEd LESSON: https://ed.ted.com/lessons/the-life-cycle-of-a-t-shirt-angel-chang
Consider the classic white t-shirt. Annually, we sell and buy 2 billion t-shirts globally, making it one of the most common garments in the world. But how and where is the average t-shirt made, and what's its environmental impact? Angel Chang traces the life cycle of a t-shirt. Lesson by Angel Chang, directed by TED-Ed.
Life Cycle Analysis Template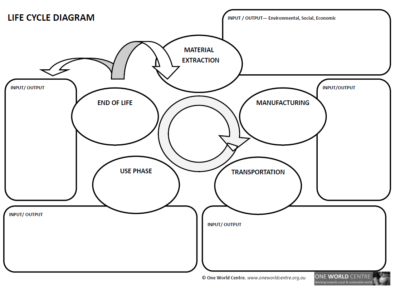 The Story of Stuff Project
Home page: https://storyofstuff.org/
Movies: https://storyofstuff.org/movies/
Includes the original "Story of Stuff" as well as stories of micoplastics, bottled water, cosmetics, electronics and more.
'Seeing the Bigger Picture'
World's Larges Lesson Goal 12 series of lessons for Secondary students focusing on the links between environmental issues and economics (production and consumption).
Lesson 1 – "Challenging Common Conceptions" http://cdn.worldslargestlesson.globalgoals.org/2016/07/1_Ellen-MacA_Challenging-Common-Conceptions.pdf
Lesson 2 – "Exploring the Circular Economy" http://cdn.worldslargestlesson.globalgoals.org/2016/07/2_Ellen-MacA_Exploring-the-circular-economy.pdf
Lesson 3 – "Understanding the Challenge of Finite Resources" http://cdn.worldslargestlesson.globalgoals.org/2016/07/3_Ellen-MacA_Understanding-the-Challenge-of-Finite-Resources.pdf
OXFAM Australia
Fair Trade Action Guide: https://www.oxfam.org.au/wp-content/uploads/2017/05/fairtrade-3things-action-guide-1.pdf
YOUTH X CHANGE – UNESCO UNEP
Youth X Change – towards sustainable lifestyles – training kit on responsible consumption (UNESCO-UNEP 2008): http://unesdoc.unesco.org/images/0015/001587/158700e.pdf
Photograph Collection "365 Unpacked" by Photographer Antoine Repesse.
"365 Unpacked" explores and questions a major social issue:the production of waste on a daily basis.
Online block-chain enabled food tracking platform – OpenSC
"OpenSC uses cutting edge technology to track individual products from origin to consumer. The aim is to help businesses and consumers avoid illegal, environmentally damaging or unethical products, while improving supply chain accountability and transparency."
Also at WWF Australia Knowledge Centre –
BAPTIST WORLD AID AUSTRALIA – 2019 Ethical Fashion Report
The Ethical Fashion Guide from Baptist World Aid Australia is a companion Guide to the 2019 Ethical Fashion Report. It is designed to help individuals make everyday, ethical purchasing decisions.
"The grades awarded by the Ethical Fashion Report are a measure of the efforts undertaken by each company to mitigate the risks of forced labour, child labour and worker exploitation in their supply chains, as well as protect the environment from the harmful impacts of the fashion industry. Higher grades are given to companies with ethical sourcing systems that, if implemented well, should reduce the extent of worker exploitation and environmental harm."
FILMS FOR ACTION
"AFFLUENZA is a groundbreaking film that diagnoses a serious social disease – caused by consumerism, commercialism and rampant materialism – that is having a devastating impact on our families, communities, and the environment. We have more stuff, but less time, and our quality of life seems to be deteriorating. By using personal stories, expert commentary, hilarious old film clips, and "uncommercial" breaks to illuminate the nature and extent of the disease, AFFLUENZA has appealed to widely diverse audiences: from freshmen orientation programs to consumer credit counseling, and from religious congregations to marketing classes."
NO LOGO: Brands, Globalisation, Resistence (2003).
"No Logo, based on the best-selling book by Canadian journalist and activist Naomi Klein, reveals the reasons behind the backlash against the increasing economic and cultural reach of multinational companies. Analyzing how brands like Nike,The Gap, and Tommy Hilfiger became revered symbols worldwide, Klein argues that globalization is a process whereby corporations discovered that profits lay not in making products (outsourced to low-wage workers in developing countries), but in creating branded identities people adopt in their lifestyles.
Using hundreds of media examples, No Logo shows how the commercial takeover of public space, destruction of consumer choice, and replacement of real jobs with temporary work – the dynamics of corporate globalization – impact everyone, everywhere. It also draws attention to the democratic resistance arising globally to challenge the hegemony of brands."
ESCAPE! From the Cult of Materialism (2016)
"Does the philosophy of materialism work to destroy our identities, experience, and environment? Join narrator Daphne Ellis on a radical romp through the evidence and decide for yourself if you're in the cult and need to escape!​"
ISSUES – E-WASTE
Mauro Anastasio. "ELECTRONIC WASTE IS AN ENVIRONMENTAL TIME BOMB". META: News from the European Environmental Bureau. October 24 2018.
"E-waste is estimated to reach a record high in 2018. Tech companies must be held accountable for profiteering from short product lifespans and a "throwaway" culture, NGOs say. 
The world is on track to produce a record 50 million metric tons of potentially toxic e-waste in 2018 – that's equivalent to almost 5,000 Eiffel towers, in just one year.
E-waste has increased as the lifespan of our electronic devices has fallen. People are throwing away their goods at a much faster rate as tech companies make repair and reuse either impossible or too expensive."
Includes Stand up for your Right to Repair Video from the European Environment Bureau.
e-Waste recycling and information in Western Australia. Find out about their mission and activities here: https://www.totalgreenrecycling.com.au/
TGR e-Waste Education Program for WA schools (2020)
---
SDG12: WESTERN AUSTRALIAN RESOURCES AND ACTION

WASTE – case studies from WA schools and key resources around the Sustainable Schools Action Learning Area waste: http://det.wa.edu.au/curriculumsupport/sustainableschools/detcms/navigation/action-learning-areas/waste/
ECONOMICS  and PURCHASING– case studies from WA schools and key resources around the Sustainable Schools Action Learning Areas:
Economics: http://det.wa.edu.au/curriculumsupport/sustainableschools/detcms/navigation/action-learning-areas/economics/
and Purchasing: http://det.wa.edu.au/curriculumsupport/sustainableschools/detcms/navigation/action-learning-areas/purchasing/
Greenbatch is WA's first plastic recycling facility. They have initiated recycling partnerships with schools in Western Australia. You can find out about their school recycling program here: https://www.greenbatch.com/greenbatch-school-recycling-program/
The Greenbatch page also has links to their story (as an example of innovation and entrepreneurship for a sustainable future) and links to additional resources and local action in WA: https://www.greenbatch.com/resources/
REMIDA – Creative Reuse Centre
Workshops, materials, professional development and inspiration to creatively reduce, reuse and recycle: http://www.remidawa.com/
Waste Wise Schools WA Program: http://www.wasteauthority.wa.gov.au/programs/wws/
Own Your Impact WA: https://ownyourimpact.com.au/
---
SDG12: ONE WORD CENTRE RESOURCES

HOT TOPIC – PLASTICS AND PLASTICS POLLUTION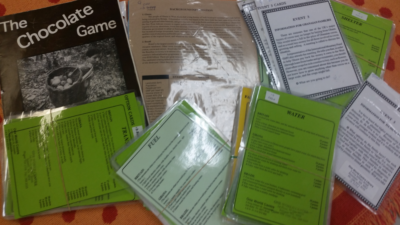 THE CHOCOLATE GAME
An activity for ages 11 to adult which explores the interdependence of people in different countries. Focuses on families involved with the growing of cocoa and the production of chocolate in three countries, Brazil, Ghana and the UK. Issues of wealth and poverty between and within countries are explored through the choices each family makes about meeting their basic needs. Events during the game emphasise the uneven distribution of wealth and power. [G 382.71 CHO]
SDG12: RELATED TOPICS
---