CONTENTS
Global Perspectives and Action
Australian and Local Perspectives and Action
One World Centre Library Resources
---
LINKS TO THE UN SUSTAINABLE DEVELOPMENT GOALS
Plastic pollution is an urgent, global environmental challenge that is addressed in several of the UN Sustainable Development Goals. The most directly relevant goals are SDG 12 and SDG 14.
SDG12: Ensure sustainable consumption and production patterns
Relevant targets include –
By 2020, achieve the environmentally sound management of chemicals and all wastes throughout their life cycle, in accordance with agreed international frameworks, and significantly reduce their release to air, water and soil in order to minimize their adverse impacts on human health and the environment.

By 2030, substantially reduce waste generation through prevention, reduction, recycling and reuse.

By 2030, ensure that people everywhere have the relevant information and awareness for sustainable development and lifestyles in harmony with nature.

Develop and implement tools to monitor sustainable development impacts for sustainable tourism that creates jobs and promotes local culture and products.
For learning objectives, teaching methods and projects for SDG12 click HERE.
SDG 14: Conserve and sustainably use the oceans, seas and marine resources for sustainable development .
Relevant targets include:
By 2025, prevent and significantly reduce marine pollution of all kinds, in particular from land-based activities, including marine debris and nutrient pollution.

By 2020, sustainably manage and protect marine and coastal ecosystems to avoid significant adverse impacts, including by strengthening their resilience, and take action for their restoration in order to achieve healthy and productive oceans.
For learning objectives, teaching methods and projects for SDG14 click HERE
UN SDGs – World's Largest Lesson Materials
http://cdn.worldslargestlesson.globalgoals.org/2017/08/Redesigning-plastic-packaging_final.pdf
Suitable for secondary students
Life Below Water – Marine Litter
http://cdn.worldslargestlesson.globalgoals.org/2017/05/WED-Lewis-Pugh-Marine-Litter-Lesson-Plan-Final.pdf
 Suitable for middle-upper primary students
---
YOUR RECOMMENDATIONS
Young people engaged in citizenship and sustainability projects have told us that they have found these links and resources useful. Thank you for getting in touch and sharing resources and recommendations!
Guide To Marine Plastic Pollution. O.Berk http://www.oberk.com/guide-to-marine-plastic-pollution
This page provides links to numerous resources including factsheets and videos on the problem of ocean plastic pollution. This page recommendation comes from Heather. Her Earth Science class has been exploring ways of reducing their ecological footprint, including ways of reducing plastic waste.

22 Facts about Plastic Pollution. Ecowatch. https://www.ecowatch.com/22-facts-about-plastic-pollution-and-10-things-we-can-do-about-it-1881885971.html
www.bottlestore.com/the-dangers-of-plastic-pollution-to-marine-life
---
GLOBAL PERSPECTIVES AND ACTION
UNEP
The United Nations Environment Program has a current focus on plastic pollution as a global environmental challenge. UNEP resources include:
"Our Planet Is Drowning in Plastic" interactive page
UNEP. The State of Plastic. World Environment Day Outlook. 2018. This is a brief (11 page) and accessible document addressing the need for urgent change to deal with the global problem of plastic pollution.
UNEP VIDEO: "Plastic Pollution: How Humans are Turning the World into Plastic" [10 min]
WWF – WORLD WILDLIFE FUND – AU
The WWF has recently released a report (2019) on the global plastic pollution crisis. The report warns that unless there is a dramatic change of approach to the global plastics crisis an additional 104 million metric tons of plastic pollution could enter our ecosystems by 2030.
Further information and VIDEO summary available here: WWF Global Plastic Pollution Report
YUNGA
YUNGA is the Youth and United Nations Global Alliance.
Inform
ation for young people on plastic pollution is at "Where does your plastic waste go"
http://www.fao.org/yunga/news-and-events/detail/en/c/1117219/
Earth Day Network, Plastic Pollution Primer and Action Toolkit, 2018
This document includes information and links to additional resources* on plastic pollution designed to support young people to take action to combat the problem.
Calculate your plastic consumption with the Earth Day – Plastic Pollution Calculator.
A PLASTIC OCEAN
Educational Supplement for the film A Plastic Ocean, produced by the Plastic Oceans Foundation.
NATIONAL GEOGRAPHIC
VIDEO: PLASTICS 101
VIDEO: A Brief History of How Plastic Has Changed our World
PRACTICAL ACTION
"Plastics Challenge" material for teachers. Challenge and design based learning. Includes free download sheets, powerpoint, posters and links to video clips: https://practicalaction.org/plastics-challenge-teachers

Story of Stuff Projects' pages on PLASTICS, outlining global action targetting plastic pollution.  https://storyofstuff.org/plastics/
This Singapore based digital media company with a focus on education and support for sustainable development in the Asia Pacific region. You can find Asia-focused articles on plastics, waste, and sustainable lifestyles on their website:
WASTE MANAGEMENT articles and info. : http://www.eco-business.com/category/waste-management/
FOOD and AGRICULTURE: http://www.eco-business.com/category/food-agriculture/
WORLD ECONOMIC FORUM – AGENDA
Article: Eric Beckman. "The World's Plastic Problem in Numbers", Agenda, 13 August 2018.
---
 AUSTRALIAN AND LOCAL PERSPECTIVES AND ACTION
WASTE – case studies from WA schools and key resources around the Sustainable Schools Action Learning Area waste: http://det.wa.edu.au/curriculumsupport/sustainableschools/detcms/navigation/action-learning-areas/waste/
Greenbatch is WA's first plastic recycling facility. They have initiated recycling partnerships with schools in Western Australia. You can find out about their school recycling program here: https://www.greenbatch.com/greenbatch-school-recycling-program/
The Greenbatch page also has links to their story (as an example of innovation and entrepreneurship for a sustainable future) and links to additional resources and local action in WA: https://www.greenbatch.com/resources/
ABC WAR ON WASTE
Education Resources related to the ABC's "War on Waste" are available at
http://education.abc.net.au/home#!/digibook/2597026/war-on-waste
25 educational resources to help kids with the war on waste. Posted by Ara Sarafian, 17 Jul 2018 (Editor, ABC Education)
ABC BEHIND THE NEWS
Story "War on Waste School' 26 June 2017: http://www.abc.net.au/btn/story/s4689455.htm
Teacher Resource for Story  "War on Waste School"
You can search for episodes relevant to your topic using the keyword "plastic" or "waste" at the BTN HOME Page.
"Reduce, reuse, recycle, compost" – Lesson plans for year 6 – Indonesian Language focus
In this unit students compare Australian and Indonesian waste management strategies and create a promotional campaign. The learning sequence examines the waste management strategies of reducing, reusing, recycling and composting.
FILM – "WASTE NOT"
Film. Waste Not (Documentary Film. 2011. 26 mins. Australian Produced.)
Film trailer: https://www.youtube.com/watch?v=x7SPmtYJIdw
Study notes, teacher guides and downloadable school resources available here: https://www.wastenot.org.au/
Unit 13. "Waste not Want Not" from Australian Association for Environmental Education and Planet Ark. Activities for lower, middle and upper primary. https://recyclingnearyou.com.au/documents/Unit13.pdf
Factsheets and other materials on waste and recycling are available at https://recyclingnearyou.com.au/education/
WWF – Australia
Information Pages: PLASTIC POLLUTION: http://www.wwf.org.au/get-involved/plastics#gs.nBaRaSw
BLOG: "The Lifecycle of Plastics" 19 June 2018.
BLOG: In photos – Drowning In Plastics. 28 June 2018.
Activity: Blue: Ocean Guardians Preventing Plastic Pollution – Social Action – Year 5 & 6. Download from Cool Australia: https://www.coolaustralia.org/activity/blue-ocean-guardians-preventing-plastic-pollution-social-action-year-5-6/
"Quick summary: In this Social Action lesson, students will view the 'Plastic Addiction' clip from Blue The Film and consider the impact that plastic has on the ocean as well as ocean and shore-dwelling creatures. Students will research and discover options to reduce plastic waste and improve the health of our oceans. Students will brainstorm how people can make small changes in their everyday lives to reduce plastic use, then inspire their school community to reduce their plastic footprint in a public presentation of their ideas."
Waste Wise Schools WA Program: http://www.wasteauthority.wa.gov.au/programs/wws/
---
ARTICLES AND MEDIA
---
ONE WORLD CENTRE LIBRARY RESOURCES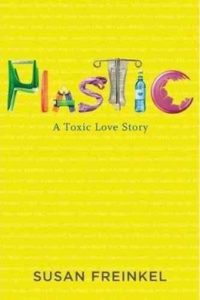 Susan Frienkel, PLASTIC : A toxic love story. (Melbourne: Text Publishing, 2011) "Plastic built the modern world. It truly is everywhere. But while we have to acknowledge its usefulness, our relationship with this endlessly versatile and enduring substance is a complex one. Plastics are made from our dwindling supply of fossil fuels, they leach harmful chemicals, litter landscapes and destroy marine life…" [EDUC 668.4 FRE]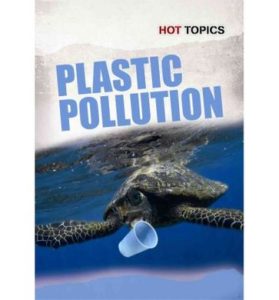 Geof Knight, Plastic Pollution (London: Raintree, 2012) "While plastic is an incredibly useful material, it does have some terrible problems. It is not easy to recycle it effectively, and it takes a very long time to break down naturally. This results in it building up and causing terrible pollution. Oceans are particularly at risk. This book looks at these issues, and explores ways in which it might be reduced in the future." [EDUC 363.7384 KNI]
---
ADDITIONAL RESOURCES
ARTICLES/BLOGS/READINGS
The Immense, Eternal Footprint Humanity Leaves on Earth: Plastics –

New York Times – http://nyti.ms/2vDfVJ1
Most of the plastic that has been made is no longer in use — about 6.3 billion metric tons of plastic have been thrown away since 1950. About 12 percent of that has been incinerated, which is the only way to permanently dispose of plastic; 9 percent has been recycled, which only delays final disposal; and 60 percent — about 4.9 billion metric tons — is in landfills or scattered in the environment.
Plastic is Everywhere and Recycling Isn't the End of It – Christopher Joyce – http://n.pr/2FjZgm8
University of California, Santa Barbara ecologist, Roland Geyer, explains that plastic is extremely ver-atile, and is therefore found in common household objects and in everyday use items. He calculated that there has been about 8.3 billion tons of plastic created since it was invented a few decades ago.
A Wonder Material You Can't Get Rid Of

– Caitlin Johnson http://cbsn.ws/2I1BQjR
This article explains that plastic bags are very frequently used by consumers, but can be a material that is difficult to recycle. Most people are unbothered by plastics littering the environment and therefore have a false idea about the difficulties of getting rid of plastics due to their long-lasting nature.
Toward a Global Treaty on Plastic Waste

– Nils Simon and Lili Fuhr – http://bit.ly/2oJsws2
According to these authors, plastic is a large part of the economy, though it is extremely harmful to the environment. This problem can be especially toxic to wildlife that is susceptible to consuming large quantities of plastic such as fish and marine birds. Plastic can also create toxic agents, which could cause public health problems.
VIDEOS
This video depicts that when plastic is thrown into a landfill and rainwater infiltrates the material, this can make the toxic chemical leachate. Another fate of plastics is ending up in one of five plastic patches that collect in certain parts of the world's oceans.
According to this video, we use plastic because it is durable and cheap to make. Only 10% of the plastic that is made gets recycled, and more than 70% of the plastic goes into natural ecosystems.
STORYTELLING
Spotlight TEDx Talk: Why I Live a Zero Waste Life 
http://bit.ly/2F6nktw
Lauren Singer tells her personal story about why she decided to live a plastic free life, and eventually a zero waste life. She includes several tips on how the use of plastic can be eradicated.
An Artist Whose Mentors are Scientists

– Dianna Cohen http://theatln.tc/2giBcW5
Dianna Cohen is an artist who realized the danger of plastics in the ocean, in particular with the Great Pacific Garbage Patch. She helped start the Plastic Pollution Coalition in order to help end the use of single use plastics.
OTHERS WORKING ON THIS:
This organization strives to end the use of single use plastics. They educate the public on how toxic plastic can be and informs on what everyone can do to eradicate plastic pollution.
Plastic Oceans strives to educate audiences about plastics in the recent news. This nonprofit organization aims to start discussion on the negative impacts of plastic pollution and the effect that this has on the oceans.
The Plastic Disclosure Project was launched by Ocean Recovery Alliance as a way to bring about large-scale prevention of plastic waste. This is an investor and multi-stakeholder driven program to encourage companies and other institutions to measure their plastic footprint and develop plastic management strategies to create a world where plastic adds value to businesses without negatively impacting the environment. This can be done on a global basis, without needing to change legislation, create bans, or impose taxes. It can be rapidly successful if we all look at ourselves, and our operations, "in the mirror," and measure what we use, and how we reuse it. Video: Plastic: from waste to resource | https://youtu.be/5poEAA3g36w
The Zero Waste International Alliance
www.zwia.org
The Zero Waste International Alliance has been established to promote positive alternatives to landfill and incineration and to raise community awareness of the social and economic benefits to be gained when waste is regarded as a resource base upon which can be built both employment and business opportunity.