HOT TOPIC- SUSTAINABLE FOOD AND FIBRES
CONTENTS
GLOBAL PERSPECTIVES AND ACTION
AUSTRALIAN AND LOCAL PERSPECTIVES AND ACTION
Indigenous landcare and food systems
Regenerative agriculture in Australia
---
LINKS TO THE UN SDGS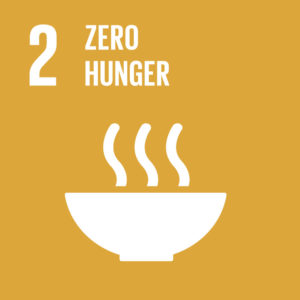 SDG 2: End hunger, achieve food security and improved nutrition and promote sustainable agriculture
Selected indicators:
2.3. By 2030, double the agricultural productivity and incomes of small-scale food producers, in particular women, indigenous peoples, family farmers, pastoralists and fishers …
2.4. By 2030, ensure sustainable food production systems and implement resilient agricultural practices that increase productivity and production, that help maintain ecosystems, that strengthen capacity for adaptation to climate change, extreme weather, drought, flooding and other disasters and that progressively improve land and soil quality
2.5 By 2020, maintain the genetic diversity of seeds, cultivated plants and farmed and domesticated animals and their related wild species … and promote access to and fair and equitable sharing of benefits arising from the utilization of genetic resources and associated traditional knowledge, as internationally agreed
Further information including global trends, targets and indicators is available from the Sustainable Development Knowledge Platform: https://sustainabledevelopment.un.org/sdg2
See OWC SDG 2 RESOURCE PAGE for local and global perspectives on agriculture, food production and food security.
SDG 12: Ensure sustainable consumption and production patterns
Selected Indicators
12.2. By 2030, achieve the sustainable management and efficient use of natural resources
12.3.B y 2030, halve per capita global food waste at the retail and consumer levels and reduce food losses along production and supply chains, including post-harvest losses
12.5. By 2030, substantially reduce waste generation through prevention, reduction, recycling and reuse
12.8. By 2030, ensure that people everywhere have the relevant information and awareness for sustainable development and lifestyles in harmony with nature
See OWC SDG 12 RESOURCE PAGE for local and global perspectives on sustainable consumption and production.
---
GLOBAL PERSPECTIVES AND ACTION
OXFAM EDUCATION (UK) RESOURCES
A resource exploring cotton production and the textile industry in India for learners aged 7–11
Lessons include an exploration of the journey of cotton from the field to the shops; a quiz about India; and a class survey about the origins of learners' own clothes. They all explore the concept of Fair Trade.
Follow the journey of a banana
Updated with new facts, photographs and stories, Go Bananas will help learners aged 7-11 to discover where their food comes from. Learners can gain a vivid insight into the banana supply chain and research the countries where bananas are grown. They will get to grips with Fairtrade and think critically about the enormous impact it can have on the lives of smallholder farmers. Could your learners make it as a banana farmer? https://www.oxfam.org.uk/education/resources/go-bananas
Questioning images to enhance visual literacy Use this colourful collection of images and accompanying activities to help learners aged 7-14 years to consider the importance of food and farming around the world, as well as the challenges some people face in getting enough food to eat. https://www.oxfam.org.uk/education/resources/picturing-food
Global food issues are complex. While supplies have surpassed population growth, 821 million people still go to bed hungry every night.
This resource will help learners aged 11-14 to understand how global supply chains currently work; where our food comes from, and some of the challenges facing the small-scale farmers who produce it. Learners can also explore how to advocate for a fairer and more sustainable global food system. https://www.oxfam.org.uk/education/resources/global-food-challenge-1114
A simple introduction to global trade for Primary schools. These lesson plans help your class to understand the basic principles of global trade. Starting with everyday items – things from the supermarket – the lessons explore where items actually come from and how they reach us. Drawing out links between raw materials and finished items, and helping learners to understand the supply chain, this resource also gets learners thinking about global trade rules and who benefits from them. https://www.oxfam.org.uk/education/resources/find-your-way-through-trade
An interactive teaching and learning guide for secondary schools. What goes into the food we buy? How can we ensure the farmers, fishers and food processors who work to put food on our shelves are treated fairly? This interactive resource will help learners aged 11-18 to investigate the human suffering in global food supply chains, and use persuasive writing skills to encourage supermarkets to do better. https://www.oxfam.org.uk/education/resources/behind-the-barcodes
OXFAM AUSTRALIA

"Oxfam's What She Makes campaign demands big clothing brands pay the women who make our clothes a living wage. Together, with your voice demanding action, and Oxfam's direct engagement with brands, we urge clothing companies to take the crucial next step in creating a fairer fashion industry." http://whatshemakes.oxfam.org.au/about-the-campaign/
FAO – FOOD AND AGRICULTURAL ORGANISATION OF THE UN

Selected pages on Organic and Sustainable Food and Agriculture and Innovation from FAO.

"Why fibres of the future?
Stringent environmental legislation and consumer awareness are driving the transition to a bio-based economy and models of sustainable development which offer high perspectives for natural fibre markets. Moving to a bio-based economy requires substitution of many common raw materials that are currently largely produced from fossil (petrochemical) or mineral resources, with products produced from renewable (plant and animal based) resources.
Substitute to synthetics
Natural fibres are increasingly being recognized as a favorable substitute to synthetics which use unsustainable inputs. Aside from technical and cost advantages, such products have the added attraction of meeting growing consumer awareness with respect to environmental, sustainability and social standards contributing to:
• Encouraging the growth of sustainable agriculture
• Uptake of environmentally friendly production and processing technologies
• Fostering economic development
• Strengthening the participation of smallholders in the value chain
The hard fibres: Acaba, Coir and Sisal, and bast fibres: Jute and Kenaf, are all natural fibres which have various and multiple end uses. Their versatility and environmentally friendly characteristics are strong advantages over synthetic alternatives. Each of the fibres has their particular strengths but all have the benefit of being naturally derived and increasingly recognised as a sustainable choice."
FAO – INFOGRAPHICS
LIVING PLANET – YOU ARE WHAT YOU EAT. DW Video.
Date10.2018
Duration 29:59 mins.
Author null Jordan Wildon
Permalink https://p.dw.com/p/35xza
HUNGRY PLANET – "What the World Eats"
'Hungry Planet' can be borrowed from the OWC Library. This article links to a photo gallery of some of the images in the book. http://time.com/8515/what-the-world-eats-hungry-planet/
FILMS FOR ACTION
In Our Hands: Seeding Change (2017) Black Bark Films, UK [1.08]

Food and farming is in crisis. In just over a decade we've lost more than 33,000 farms from our countryside, and alongside this, bad diet is now causing more health problems than smoking! The fundamental link between people, food and the very land we stand on is being broken. Yet it need not be this way. There is a growing movement of farmers and food workers who are creating vibrant farms, living soils, thriving food markets and a fairer food system for all. At the heart of all change lies a story, and In Our Hands is the story of a new kind of farm, a new kind of food and a new kind of society. This film has been created as an open source tool in order to debunk the myth of the industrial food system, and be a resource for farmers and activists in building a better world.
DOLLAR STREET – GAPMINDER
Explore the lives of individuals and families around the globe on 'dollar street'.
Search for images and stories form all around the world to explore everyday human objects and activities such as bedrooms, homes, food, clothing, agricultural land, vegetable gardens
The Future 50 Foods Report

From WWF and Korr, The Future 50 Foods report, a collection of diverse plant-based foods from around the world that can boost the nutritional value of our meals whilst reducing the environmental impact of our food supply. https://www.wwf.org.uk/updates/wwf-and-knorr-launch-future-50-foods
UNEP – SUSTAINABLE RICE PLATFORM

Information videos from Sustainable Rice Platform (SRP).
2009 was the year of Natural Fibres. The website for The International Year of Natural Fibres contains a wide array of information and multi-media exploring natural fibres around the world. http://naturalfibres2009.org/en/index.html
"Natural fibres: Ancient fabrics, high-tech geotextiles"
This page profiles of 15 of the world's major plant and animal fibres – many of them fundamental to human society since the dawn of civilization" http://naturalfibres2009.org/en/fibres/index.html

SERRV – Artisans and Farmers – Fair Trade
"Serrv International is a nonprofit dedicated to fighting global poverty through fair and ethical trade … Behind every fair trade handcraft we sell, there's a story of positive change. And after nearly 70 years, we've seen what trading fair can do. Marginalized artisans and farmers who are empowered by sustainable employment, fair wages and safe working conditions find security and dignity in their work. They create stronger and healthier communities. They send their children to school. They hand down traditions of cultural craft. Find out about handicrafts from different countries and different techniques from around the world on the SERV webpages."

---
AUSTRALIAN AND LOCAL PERSPECTIVES AND ACTION
INDIGENOUS LANDCARE AND FOOD SYSTEMS
"In 2014, Bruce Pascoe wrote a book called Dark Emu that challenged the belief that the First Australians were hunter-gatherers. In researching his book, Bruce examined the journals of the early explorers and found evidence of a complex civilisation that was using sophisticated technologies to live, farm and manage the land." This Digibook from ABC education resources for schools explores the history of Aboriginal agriculture and technology and celebrate the ingenuity of the First Australians.
REGENERATIVE AGRICULTURE in AUSTRALIA
LANDCARE WA: Regenerative Agriculture
Resource Page for understanding the principles and practices of regenerative agriculture, includes definitions and links to articles and videos.
NATIONAL REGENERATIVE AGRICULTURE DAY
"Refresh.ED is a comprehensive online resource to help teachers introduce food and nutrition in classrooms from kindergarten to year 10. On this website you will find classroom teaching materials as well as professional learning materials to enhance teacher knowledge and confidence to teach nutrition. Teaching and learning materials are based on research into nutrition education.
Age-appropriate teaching units address content descriptions in different learning areas of the Australian Curriculum.  Food and drink sources, choice, experience and links to health are all covered by the units, which include integrated learning tasks, worksheets, black-line masters and links to songs, stories, current affairs and online video clips."
"Permaculture is a creative design process based on whole-systems thinking. It describes a set of agriculture and social design principles that aim to create a more sustainable society. Permaculture looks at systems that occur naturally in the environment and uses these as a starting point for creating new, designed solutions in agriculture and community. In these lessons, students will explore permaculture design, and discover ways that they can incorporate permaculture into their own designs. Students will be introduced to the ethics at the core of permaculture and examine a real-world permaculture case study from Zanzibar. Although these lessons can be taught by themselves in isolation, they also form a series of 6 lessons that can be delivered in sequence to take your students through a complete permaculture project design process."
WWF Australia – COOL AUSTRALIA
SUSTAINABLE PALM OIL UNIT – For years 5-6. Cool Australia and WWF-Australia have created a series of lessons which guide "students to inquire into conventional palm oil production and the move to sustainable palm oil. Students develop an understanding of palm oil, consumption and sustainability. By practicing critical and creative thinking, students will be equipped to make sound consumer choices based on social, environmental and economic criteria and will be encouraged to take action around this important issue."
BAPTIST WORLD AID AUSTRALIA – 2019 Ethical Fashion Report
The Ethical Fashion Guide from Baptist World Aid Australia is a companion Guide to the 2019 Ethical Fashion Report. It is designed to help individuals make everyday, ethical purchasing decisions.
"The grades awarded by the Ethical Fashion Report are a measure of the efforts undertaken by each company to mitigate the risks of forced labour, child labour and worker exploitation in their supply chains, as well as protect the environment from the harmful impacts of the fashion industry. Higher grades are given to companies with ethical sourcing systems that, if implemented well, should reduce the extent of worker exploitation and environmental harm."
PRIMEZONE Education Portal
From the Primary Industries Education Foundation Australia-PIEFA http://www.piefa.edu.au/
Selected Resources from Primezone
Technologies – ACTDEK012 – YEAR 3-4
"This video is about forestry and the sustainable management of the industry."
Technologies – ACTDEK021 – Video – YEAR K-10
English – Geography – ACHGK036, ACHGS040, ACHGS041, ACHGS042, ACHGS045, ACELY1714 – YEAR 6
---
LOCAL ORGANISATIONS WA
"Refresh.ED is a comprehensive online resource to help teachers introduce food and nutrition in classrooms from kindergarten to year 10. On this website you will find classroom teaching materials as well as professional learning materials to enhance teacher knowledge and confidence to teach nutrition. Teaching and learning materials are based on research into nutrition education."
Page includes links to HOT TOPICS resources:
Cultural Burning – Learn more about the importance, techniques and current examples of cultural burning programs
Managing Salinity – Read about the latest on salinity and join us in reigniting action to address its continuing spread
Regenerative Agriculture – Useful resources for understanding principles and practices
Agricultural Educators Association of Western Australia
"Did you know that Australia is home to thousands of native edible plant species? Yet most of the food we grow in our backyards today originally came from overseas. Despite having sustained generations of Aboriginal Australians for centuries, our native bush foods have fallen by the wayside.
We started Tucker Bush with a dream of bringing this land's unique flavours back into the mainstream, so future generations can remain connected to a rich and vibrant history. We want to see a cultural shift towards a sustainable ecosystem, a secure and diverse food supply, and happier, healthier humans."
"Perth is a community of people living connected, sustainable lives. Perth City Farm is a non-profit community environmental centre that provides space and opportunities to build community connections, and educates and enables people to live sustainably. We focus on the relationships between people and the environment, society, and one another."
Department of Primary Industries and Regional Development – Agriculture and Food
"DAFWA supports the growth of WA's agrifood sector in four key areas: markets, productivity, profitability and people. Find out about career pathways and employment in the sector, access the latest teaching resources or learn more about scholarships and awards to assist you to reach your goals.
See Also
Careers in food and fibre
---
ARTICLES and VIDEOS
Gabby Lozano, 20 Heroines Revolutionizing Food Activism to Improve the Planet. Foodtank. 20 March 2020. [article]
SDG5 and SDG2. "
In honor of International Women's Day on March 8th, Food Tank is honoring 20 women (among the tens of thousands of others we could have also chosen!) who are working to break down these barriers by leading organizations, projects, and movements in food justice.

"
SDG2, SDG15 "Boorowa farmer, David Marsh, began his journey into regenerative agriculture in the 1980s, after a drought brought him to the edge of ruin. He began adopting regenerative practices in 1999, increasing the amount of native vegetation and tree coverage on his property from just 3 per cent to 20 per cent"
SDG2, SDG10, SDG15 "Sustainable agriculture is our future. It allows us to stay closer to the nature into which we are all born. In this film, Kalyani Minj and a large collective of women farmers from India are showing us how sustainable forms of farming and organic forms of fertilisers and pest control mechanisms not only increases the income for the farmers, it also promotes food and ecological security for the generations to come. ActionAid India supports thousands of farmers across the country who practise and promote sustainable methods of agriculture. Directed by – Chintan Gohil Camera by – Jason Taylor Music – Gary Morris Produced by – ActionAid India"
"While most libraries tend to be filled with nothing more than books, the new VAC library (an abbreviation of the Vietnamese words for Garden, Pond and Cage) in Hanoi is teeming with koi fish and greenery. Vietnamese firm Farming Architects has built the the new open-air library with an impressive aquaponic system to teach the kids about urban farming." Contains great gallery of images.
"Vanilla farmers in Madagascar, where most of the world's supply comes from, spend years cultivating the vine and bean for processing. The vanilla orchid blooms on just one day each year and must be pollinated by hand — a delicate process which has to be seen to be believed."
https://www.facebook.com/ABCRural/videos/1180722125417437/
SDG2, SDG13. "It is widely agreed that today's global agriculture system is a social and environmental failure. Business as usual is no longer an option: biodiversity loss and nitrogen pollution are exceeding planetary limits, and catastrophic risks of climate change demand immediate action."
SDG2, SDG9 "A science-fiction look at the next two decades of food developments, from robot farmers to 3D-printed meals to government monitoring of your daily calorie intake." This article about what food will look like in 2038 could be used as a way of stimulating questions and critical discussion around the challenges we face in our food system, the types of changes we can make and the system wide impacts of innovations.
SDG12, SDG15 "The fashion industry is valued upward of 2.5 trillion dollars, and employs some 75 million people globally – so it makes good sense to shift textile production from fossil fuel-based synthetic fibers to renewable, biodegradable textiles, made from wood, according to a new United Nations initiative that aims to make forests literally more fashionable."
---
ONE WORLD CENTRE RESOURCES
Cultural Influences on Australian Food
Gobal Trade and Development
World Food
How the World Dresses: Clothing and Global Culture
The Kids Multicultural Cookbook
Bushfood
The Big Food Project
Fun with Asian Food
Bush Tucker poster collection
Bush tucker poster collection
Bush Timber and Technologies Collection
Food for All
Food Collection
Forests and Trade Collection