HOT TOPICS – CLIMATE ACTION

"The climate crisis has already been solved. We already have all the facts and solutions, all we have to do is to wake up and change." [Greta Thunberg]
CONTENT
RESOURCES FOR CHILDREN AND YOUNG PEOPLE
AUSTRALIAN PERSPECTIVES AND ACTION
Resources for teachers and learners
Programs for schools
Australian climate action organisations
GLOBAL PERSPECTIVES AND ACTION
---
LINKS TO THE UN SDGS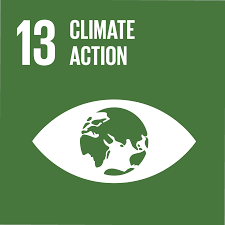 Goal 13: Take urgent action to combat climate change and its impacts.
"Climate change is now affecting every country on every continent. It is disrupting national economies and affecting lives, costing people, communities and countries dearly today and even more tomorrow. Weather patterns are changing, sea levels are rising, weather events are becoming more extreme and greenhouse gas emissions are now at their highest levels in history. Without action, the world's average surface temperature is likely to surpass 3 degrees centigrade this century. The poorest and most vulnerable people are being affected the most." *Source: United Nations Sustainable Development Goals / Goal 13 /
For facts and figures, targets and links for SDG 13 go to the United Nations Sustainable Development Goals Pages – UN SDGS: GOAL 13
CLIMATE CHANGE – WHY IT MATTERS (pdf) (2 pages)
For UNESCO curated teaching and learning resources for Goal 13: Climate Action see UNESCO's SDG Resources for Educators / SDG 13 Climate Action Page
WORLDS LARGEST LESSON for SDG 13 – 'PROTECT THE PLANET
---
RESOURCES FOR CHILDREN AND YOUNG PEOPLE

"Children are the least responsible for climate change, yet they will bear the greatest burden of its impact." Source: UNICEF: https://www.unicef.org/environment-and-climate-change.
An Australian podcast network for sharing climate action stories, with a focus on youth voices. Listen, contact, contribute. "Climactic tells the stories of the people making a difference. Regular people like us, in a daily struggle to live sustainable lives. We want to be the people's voice on climate change, embedded in the community, from the perspective of the actual people."
Online game from the UN in which you find out about and vote for the Climate Actions that are most important to you in your context.
UNICEF: YOUTH – Learn about Climate Change
Accessible page for educators and young people with information, activities, slides, quizes, videos and profiles of young climate activists. Linked to SDG Goal 13.
YUNGA – Climate Change Challenge

Youth and United Nations Global Alliance 'Climate Change' Challenge Badge page includes links to the Climate Change Challenge Badge as well as other publications and projects suitable for young people.
UN CC: Learn – SELECTED LEARNING RESOURCES FOR EDUCATORS AND YOUNG PEOPLE
'Youth in Action on Climate Change: Inspirations from Around the World' (2013) (pdf)
SCHOOL STRIKE FOR CLIMATE – AUSTRALIA
"We are students of all ages from cities, towns and regional hubs in every corner of Australia. Although we live hundreds of kilometres away from each other, one thing unites us. Concern for the future of our planet. We are striking from school to tell our politicians to take our futures seriously and treat climate change for what it is – a crisis."
Climate Change is one of THE BIG ISSUES for the Millennium Kids. You can find out more about climate change and MK action here: https://www.millenniumkids.com.au/the-issues/climate-change/
AYCC: AUSTRALIAN YOUTH CLIMATE COALITION
"The Australian Youth Climate Coalition is Australia's largest youth-run organisation, our mission is to build a movement of young people leading solutions to the climate crisis.
AYCC: HOW TO GUIDES – Climate Action for Young People
AYCC: CLIMATE CHANGE AND SOLUTIONS Page
Accessible information about climate change, related issues and solutions for young people.
TEDx
Luisa Neubauer. Why you should be a climate activist. TEDxYouth@Munchen. July 2019.
"I dream of a world where geography classes teach about the climate crisis as this one great challenge that was won by people like you and me," says climate activist Luisa Neubauer. With Greta Thunberg, Neubauer helped initiate "Fridays For Future," the momentous international school strike movement that protests the lack of action on the climate crisis. She shares four first steps that anyone, regardless of age, can take to become a climate activist. "This is not a job for a single generation. This is a job for humanity," she says.
Greta Thunberg. The disarming case to act right now on climate change. TEDxStockholm. November 2018.
In this passionate call to action, 16-year-old climate activist Greta Thunberg explains why, in August 2018, she walked out of school and organized a strike to raise awareness of global warming, protesting outside the Swedish parliament and grabbing the world's attention. "The climate crisis has already been solved. We already have all the facts and solutions," Thunberg says. "All we have to do is to wake up and change."
"#FridaysForFuture is a movement that began in August 2018, after 15 years old Greta Thunberg sat in front of the Swedish parliament every schoolday for three weeks, to protest against the lack of action on the climate crisis. She posted what she was doing on Instagram and Twitter and it soon went viral." FAQs Page.
International page for school strike for climate.
---
CLIMATE WELLBEING
"Teaching kids to think critically about the issue helps them avoid despair and instead empowers them to create change."
Tim Lyndon. 'How to Raise Climate Resilient Kids'
UNICEF AUSTRALIA
'How to talk to your children about Australia's bushfire emergency: Tips to help comfort and protect children'.
UNICEF has decades of experience counselling families and children who have experienced disasters. They tell us that young people respond differently to disaster than adults. This page provides accessible and useful information about communication strategies to comfort and protect children.
DFES – WA
Sustainable Schools Alliance member Department of Fire and Emergency Services WA are educational specialists in the field of disaster and resilience education. You can find out more about the programs and resources they offer for children, schools and parents here:   https://www.dfes.wa.gov.au/schooleducation/Pages/default.aspx
AUSTRALIAN PSYCHOLOGICAL SOCIETY – TOPIC – CLIMATE CHANGE
Coping with Climate Change Distress
An accessible and practical guide to coping strategies for dealing with the knowledge, emotions and experiences of living in a world impacted by climate change. From the Australian Psychological Society, Australian Conservation Association and others, it contains useful strategies – behavioural, relational, cognitive, and emotional – for individuals and groups that can be used to cultivate hope and promote positive action.
Climate Change Empowerment Handbook
Using ACTIVATE – eight psychological strategies to combat climate change.
Talking to Children about the Environment
Information sheets including 'Raising Children to Thrive in a Climate Changed World' and 'A Guide for Parents about the Climate Crisis.'
WHO – CLIMATE CHANGE AND HEALTH Pages
Climate Change and Health – Facts in Pictures – gallery
CLIMATE CHANGE AND HEALTH – STRENGTHENING RESILIENCE:ACTING ON CLIMATE CHANGE AND HEALTH (UN Global Compact Network, Australia, DFAT July, 2020)

"Whilst climate change is often marked by extreme weather events, rising sea levels and polar bears teetering on melting ice sheets, the impacts on human health if left unaddressed could be devastating. The challenges ahead are immense.As the impacts of climate change become more pronounced, so too does the opportunity for government and business to implement actions that align with the Paris Agreement.The global COVID-19 pandemic is also an opportunity for business to press pause, take stock, and develop strategies and systems that build greater resilience to future crises in alignment with a net zero future"
Renee Lertzman. How to turn climate anxiety into action. TEDWomen. December 2019. [13.50]
"It's normal to feel anxious or overwhelmed by climate change, says psychologist Renée Lertzman. Can we turn those feelings into something productive? In an affirming talk, Lertzman discusses the emotional effects of climate change and offers insights on how psychology can help us discover both the creativity and resilience needed to act on environmental issues."
---
AUSTRALIAN  PERSPECTIVES AND ACTION
RESOURCES FOR TEACHERS AND LEARNERS

The Climate Council is a community funded public information service. You can find infographics, podcasts, news, mythbusting guides and information to keep you Climate Aware and prepared to make informed and responsible choices for the future of the planet.
Selected CLIMATE COUNCIL RESOURCES / PAGES
CLIMATE COUNCIL EXPLAINERS
Explainer – 10 Hottest Large Scale Climate Solutions
Explainer – What is Climate Change and What can we do about it?
CLIMATE SYSTEMS SCIENCE – ARC Centre for Excellence
Highlights include:
Science Web Australia: The most relevant resource for extreme weather/climate can be found in Years 5-6.
AUSTRALIAN ACADEMY OF SCIENCE

CLIMATE REALITY PROJECT AUSTRALIA
Includes overview of the WWF action to combat climate change and preserve earth's biodiversity as well as explainers about 'global warming'. Also links to the

WWF ECOLOGICAL FOOTPRINT CALCULATOR.
---
PROGRAMS FOR SCHOOLS
A data-driven program underpinned by online tools designed to help schools and communities to measure, monitor, compare and reduce their carbon footprint and become leaders in sustainability and climate action. Registration on their website.
A CSIRO education program that combines the latest in climate science with education in sustainability. School registration on their website.
A program that aims to inspire future environmental leaders by connecting and challenging students with real world issues. Registration on their website.
UNESCO
Initiative from the Australian Youth Climate Coalition. Includes guides for young people and curriculum related resources.
---
CLIMATE ACTION ORGANISATIONS
CANA: Climate Action Network Australia
A number of professional, not-for-profit, city, community, business and other organisations are members of the Climate Action Network Australia, including Oxfam Australia, WWF, Greenpeace Australia Pacific, the Conservation Council of Western Australia and many more. A full list of members can be found here: https://www.cana.net.au/our_members
AYCC: Australian Youth Climate Coalition
"The Australian Youth Climate Coalition is Australia's largest youth-run organisation, our mission is to build a movement of young people leading solutions to the climate crisis.
"350.org Australia aims to rapidly end fossil fuels by building a global climate movement."
WA Climate Action Network – It's up 2 us
""The 'It's up 2 us' campaign aims to build a movement of people willing to take personal and collective responsibility to protect our children and future generations from dangerous climate change and environmental degradation, whilst bringing forth a sustainable, just and fulfilling world."
---
GLOBAL PERSPECTIVES AND ACTION
Video: How on Earth: Christiana Christiana Figueres and Ross Garnaut on Climate Solutions Now. [13 March 2020. 44 mins]
"Christiana Figueres, the architect of the 2015 Paris Agreement, sees the 2020s as a critical moment of opportunity – the 'golden decade' – in the future of our species and our planet. Earlier this year, the former executive secretary of the United Nations Framework Convention on Climate Change said: 'If we do the right thing this decade, we can continue to design the future but if we don't, we are really condemned to a world of increasing destruction, conflict and pain … It is a golden ten years in the history of humankind.'"
Video: Toward zero carbon with David Attenborough and Jane Goodall [University of Cambridge] [13.06min]
"Sir David Attenborough, Dr. Jane Goodall DBE and leading Cambridge University researchers talk about the urgency of climate crisis—and some of the solutions that will take us towards zero carbon."
UNFCC UN Framework Convention on Climate Change
UNICEF – ENVIRONMENT AND CLIMATE CHANGE PAGE
Action for climate empowerment: guidelines for accelerating solutions through education, training and public awareness.UNESCO. Full text online.

TROP ICSU : Climate Change Education Across the Curricula Across the Globe
TROP ICSU ("Trans-disciplinary Research Oriented Pedagogy for Improving Climate Studies and Understanding") is a global project funded by the International Council of Science. It aims to collate and curate digital teaching resources that INTEGRATE climate studies across the curriculum. It also aims to develop resources aligned to local (national/state) curriculum and contexts: locally rooted in their context, but globally relevant for their science.
Page includes Teaching Tools, Lesson Plans organised by learning area or topic and links to numerous climate change education organisations.
TROP-ICSU – Climate Change Education – SIMILAR RESOURCES PAGE
TROP-ICSU – Climate Change Education – ORGANISATIONS AND RESOURCES PAGE
Teacher's climate guide is an Finnish education package which explains climate change in the context of each school subject, and provides exercises and visual material. It also contains tips for multidisciplinary climate education, tips for integrating climate change in education and activities at the primary level, and basic information about climate change and climate education.
OXFAM – UK
Learning resource based on real-life stories from Malawi including activity ideas support learners aged 9 to 14 to learn and think about the human impact of climate change.
WORLD WILDLIFE FUND – Climate Change Resources for Schools
Based on book and film 'This Changes Everything' by Naomi Klein, Lesson Plans and Study Guide for years 9-12
UN CC: Learn – UNITED NATIONS CLIMATE CHANGE LEARNING PARTNERSHIP
"The One UN Climate Change Learning Partnership (UN CC:Learn) is a collaborative initiative of more than 30 multilateral organizations supporting countries to design and implement systematic, recurrent and results-oriented climate change learning. The initiative was launched at the 2009 Copenhagen Climate Change Summit."
UN RESOURCES list from TROP ICSU
Climate-related resources from United Nations Organizations and Agencies.
ALLIANCE FOR CLIMATE EDUCATION
US based organisation, "ACE's mission is to educate young people on the science of climate change and empower them to take action. Since 2009, ACE has educated two million students and trained over 4,000 student leaders."
Alliance for Climate Education initiative, including a range of resources designed for educators and young people. Free sign up required to access multimedia resources.
EDUCATOR RESOURCES PAGE includes educator guides, lesson plans and activities (USA focus)
CHILDREN IN A CHANGING CLIMATE
"Children's experiences of and insights into climate change and disasters are different to those of adults, yet these are rarely considered in policy and practice." "Our research and experience also demonstrates that children can and should be an important part of the solutions to addressing climate change and reducing disaster risk."
CCC is a coalition of organisations advocating for the rights of children and for child-centred and child led disaster risk reduction and climate change adaptation. Rather than focusing on children as passive victims of climate change and disasters, these organisations advocate for children as active and essential participants in efforts to reduce the adverse impacts of disaster events and climate change.
---
ARTICLES

Emiy Holden. Individual Actions do add up: Christiana Figueres on the climate crisis. The Guardian. 5 March 2020. Interview with Christiana Figueres, architect of the Paris Climate Accords.
Nick Kilvert. Project Drawdown' report says we've already got the tech to reach negative emissions by 2040s. ABC Science. 3 March 2020. Key Points: Project Drawdown report identifies more than 80 areas where we can reduce emissions, highlights energy and food systems as biggest opportunities; food waste and education and action by women are underestimated areas for emissions reductions; long-term atmospheric carbon budget will only reduce over hundreds of thousands of years.
'The World is Failing to Ensure Children Have a Liveable Planet'. The Guardian. 19 February 2020.
Tim Lyndon. 'How to Raise Climate Resilient Kids'. Yes Magazine. 18 February 2020. Key points: positive stress and strong social support networks; connection to the outdoors and nature based education; discuss and model solutions; foster compassion.
These are the 76 climate solutions we need to scale up right now to have a chance. Fast Company. 3 March 2020. Keypoints: discusses top solutions from Project Drawdown.
Climate change: educating students to fight the crisis. UN News. 11 March 2020. "With the latest UN climate report containing worrying evidence that climate change is having a major effect on all aspects of the environment, how can teachers help children and adults to sort through the growing mass of information, avoid being overwhelmed, and come to an understanding of the challenges, and potential solutions, to what the UN Secretary-General has called "an existential crisis"? Discusses UN Associated Schools Program.
---
ONE WORLD CENTRE RESOURCES
---