Teaching And Learning for SDG 16 – Peace, Justice and Strong Institutions
CONTENTS
Learning Objectives, Approaches and Methods
Australian and Western Australian Resources and Links
---
SDG 16: OVERVIEW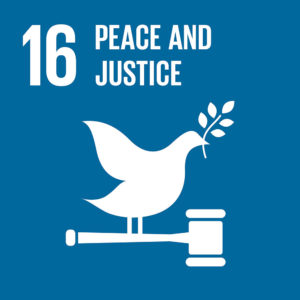 Goal 16: Promote just, peaceful and inclusive societies.

"The threats of international homicide, violence against children, human trafficking and sexual violence are important to address to promote peaceful and inclusive societies for sustainable development. They pave the way for the provision of access to justice for all and for building effective, accountable institutions at all levels." *Source: United Nations Sustainable Development Goals / Goal 16 /
For facts and figures, targets and links for SDG 16 go to the United Nations Sustainable Development Goals Pages –  UN SDGS: GOAL 16
Peace, Justice and Strong Institutions: WHY THEY MATTER (pdf) (2 pages)
---
SDG 16: LEARNING OBJECTIVES, APPROACHES AND METHODS

Table of Learning Objectives, Topics and Methods from Education for the Sustainable Development Goals (UNESCO, 2018)
---
SDG16: ONLINE RESOURCES
WORLD'S LARGEST LESSON MATERIALS
Human Rights and the Global Goals. http://cdn.worldslargestlesson.globalgoals.org/2017/07/Amnesty-WLL-lesson-plan-English.pdf
The Power of Peace: http://cdn.worldslargestlesson.globalgoals.org/2016/06/8_The_Power_of_Peace.pdf
https://www.youth4peace.info/
Featured resources include WEBINAR: SDG16 and youth empowerment for peaceful, just and inclusive societies
UNOY – Youth4Peace Toolkit (United Network of Young Peacemakers)
 Youth4Peace Training Toolkit includes introduction to key concepts, guidelines for design, skills and principles and program design for peace education and peacebuilding programs.
UN HUMAN RIGHTS COUNCIL (HRC) (UNOHCHR) (Office of the High Commissioner for Human Rights)
UN Human Rights Council You Tube Channel: https://www.youtube.com/user/UNOHCHR Includes introductory videos on human rights.
Human Rights Education and Training: https://www.ohchr.org/EN/Issues/Education/Training/Pages/HREducationTrainingIndex.aspx
Up to date news from around the world on the topic "human rights". https://news.un.org/en/news/topic/human-rights
GLOBAL CAMPAIGN FOR PEACE EDUCATION
PEACE EDUCATION: A PATHWAY TO A CULTURE OF PEACE. 3rd edition. By Loreta Navarro-Castro and Jasmin Nario-Galace of the Center for Peace Education, Miriam College, Philippines. Free Download.
AMNESTY INTERNATIONAL
Human Rights materials for educators from Amnesty International are available through the human rights education portal: https://www.amnesty.org/en/human-rights-education/
Resources can be searched at https://www.amnesty.org/en/search/ and include teaching toolkits such as 'Write 4 Rights – Human Rights Education Toolkit', reports and case studies, and Kahoot quizes.
WRITE 4 RIGHTS SERIES
AMNESTY INTERNATIONAL – UK
Five fictional comic style heroes represent the experiences of real human rights defenders around the world.
UNICEF
UNICEF has also developed a free, basic online training course for educators and others, specifically on children's rights which helps to explain, through videos, what human and child rights are, and how they differ from 'needs'-https://bit.ly/childrightsmatter
The Human Rights Guide to the Sustainable Development Goals – DANISH INSTITUTE FOR HUMAN RIGHTS
This tool maps the goals and targets of the SDGs to articles of the Universal Declaration of Human Rights, and other international human rights instruments, treaties and conventions.
ADVOCATES FOR HR – HUMAN RIGHTS GAMES LINKS
https://www.theadvocatesforhumanrights.org/games
A collection to links to online games with a human rights focus.
OXFAM/UNICEF GLOBAL GOALS RESOURCE KIT
SDG16 HUMAN RIGHTS – End All Forms of Violence Against Children. [7 pages]
---
SDG 16: AUSTRALIAN AND WESTERN AUSTRALIAN RESOURCES AND ACTION
UNAAWA – United Nations Association of Australia – Western Australian Division
Information about the UNAA WA Education Programs for Schools and Human Rights Committee is available on the UNAAWA webpage.
The UNAA WA Education Program runs the annual national Yolande Frank Art Awards and Peace Day Celebrations promoting human rights and peace education in WA.
UNAA WA GLOBAL CITIZENSHIP EDUCATION RESOURCES BANK
Includes curriculum linked resources on the UN and Human Rights.
MFTWA The Museum of Freedom and Tolerance – Western Australia

"The Museum of Freedom and Tolerance is a museum with no walls, founded to promote a society where everyone can live peacefully with each other, free from racial and religious prejudice and discrimination. Our Museum is centred around the concept of fostering greater empathy and cohesion by amplifying the voices of those marginalised by racial and religious discrimination into positive actions and meaningful change."
In Visible Ink is the Museum's signature project for 2019. The purpose of the In Visible Ink project is to make stories of people and communities marginalised by race and religion visible, in order to catalyse them and inspire meaningful social change.
AHRC The Australian Human Rights Commission
The Australian Human Rights Commission provides a range of EDUCATIONAL services, including advocacy and resources for human rights education in the classroom and vocational sectors.
You can access their educational resources HERE: https://www.humanrights.gov.au/human-rights-education-and-training
Popular resources include FACE THE FACTS sheets and RIGHTSED materials covering topics such as racism, cultural diversity, disability rights, gender equality and children's rights in Australia.
INTRODUCTION TO HUMAN RIGHTS Lessons
FACT THE FACTS Factsheets
Centre for Human Rights Education at Curtin University
"The Centre for Human Rights Education at Curtin University is a centre for research, postgraduate teaching, critical scholarship and advocacy on human rights. The Centre leads ethical scholarship, enabling individual agency and community engagement on human rights and social justice through the study and promotion of human rights at local, national and international levels."
Information about research, events and videos of past events are available on the CHRE webpage.
COOL AUSTRALIA
The Story of Rights and Freedoms around the World. Resources for depth study, Year 10 History. Quick summary: In this Finding Out lesson, students will explore civil rights, with a specific focus on the African American civil rights movement in the United States of America. They will use a 'Think-Pair- Share' visible thinking routine to explore their understanding of what civil rights are. The class will discuss a definition of the concept, with a focus on the differences and similarities with human rights. The class will analyse images relating to the reaction to desegregation in the USA, and respond to a set of prompts about them. Students will then research and organise into chronological order a set of key events within the USA civil rights movement. Students will dig deeper into key figures and events in the fight for civil rights, and create a set of exhibits for a class gallery walk. They will then reflect on their new understanding using a 'Here Now/There Then' visible thinking routine.
https://www.coolaustralia.org/activity/story-of-our-rights-and-freedoms-struggles-for-rights-and-freedoms-around-the-world-history-year-10/
---
SDG16: ONE WORLD CENTRE RESOURCES
Available for LOAN from the OWC Library:
---
SDG16: RELATED TOPICS
HOT TOPIC – Refugees and Migration