Please read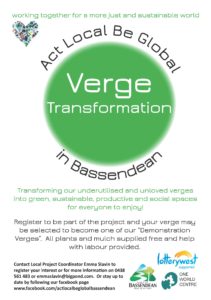 below for a message from one of our local project partners, the Town of Bassendean.
Hi everyone,
We are looking for people with Town of Bassendean verges to transform, lots of willing workers and advocates as well. The next step in this project will be the completion of demonstration verges which we hope to accomplish over the next couple of months. If you do register your verge, yours may be selected to be our major demonstration verge and you will receive free plants, free mulch, free earthmoving and assistance with labour. If your verge is not selected to be our major demonstration verge you will still receive assistance and savings by taking part in the project. This is your chance to take action and be part of a project to make a tangible difference in our community and one that we hope will lead to lasting change.
Kind regards Emma
Please email community@oneworldcentre.org.au for further information and to be put in contact with Emma.
verge-transformation-flyer-final