Grounded in Truth: Walk Together With Courage

National Reconciliation Week (NRW) runs annually from 27 May to the 3 June. These dates mark two significant events in Australia's Reconciliation journey, the 1967 Referendum and Mabo Day. The theme for NRW 2019 is GROUNDED IN TRUTH – Walking Together in Courage. This theme addresses the courage that it takes to engage in a process of speaking and listening to recognise a common ground of truth.
"At the heart of reconciliation is the relationship between the broader Australian community and Aboriginal and Torres Strait Islander peoples. To foster positive race relations, our relationship must be grounded in a foundation of truth."
You can find our more about the five dimensions of Reconciliation – historical acceptance; race relations; equality and equity; institutional integrity and unity – on the Reconciliation Australia webpage here: https://www.reconciliation.org.au/what-is-reconciliation/
You can find out more about National Reconciliation Week here on the NRW2019 homepage: https://www.reconciliation.org.au/national-reconciliation-week.
Resources available on the NRW2019 homepage include information about the 1967 Referendum, Mabo Day, and a Time Line of Reconciliation. You can also find lists of Recommended Reading and Recommended Viewing.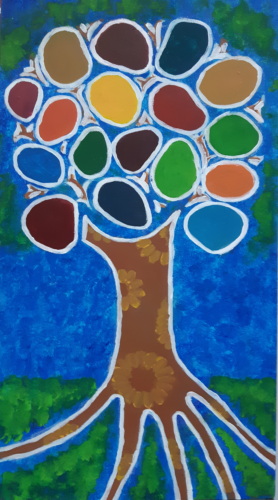 At the One World Centre we are participating in our own Reconciliation journey. Part of that journey is visible in the form of the 'tree' artwork we created as a community with the guidance of Noongar Artist Sharyn Egan. You are also welcome to attend tomorrow's conversation Event with Elaine Lewis and Paul Willaway, of our RAP working group. The Centre's Reconciliation Action Plan can be viewed here: http://www.oneworldcentre.org.au/about/
The One World Centre library houses a large collection of resources for exploring Aboriginal and Torres Strait Islander histories and cultures