All volunteers and OWC members are invited to this OWC event for NAIDOC Week.

Conversation with Elaine Lewis about Australia's First Naturalists … for NAIDOC Week
Thursday 12th November
Elaine, member of the OWC Reconciliation Action Plan Working Group, will share reflections on social justice issues in the context of a recent publication by Olsen & Russell "Australia's First Naturalists" (2019).
Come along, bring your lunch and join in a stimulating conversation about some of the truths at the basis of the shared journey of Reconciliation we are walking together and celebrate the achievements of Aboriginal and Torres Strait Islander peoples.
VENUE: One World Centre, 5 King William Street, BAYSWATER WA
TIME and DATE: Thursday 12th November at 12.30pm
COST: Free
BRING: Your lunch and readiness to join the conversation
No registration is required for this event, please contact owc@oneworldcentre.org.au or 93719133 for further information or inquiries.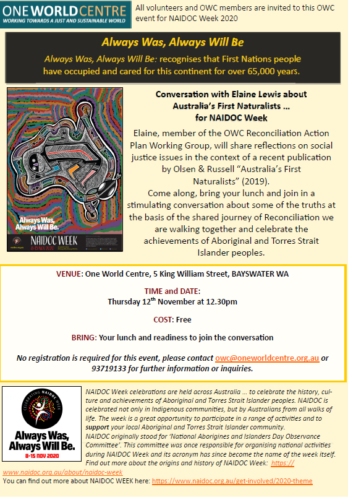 ABOUT NAIDOC WEEK
NAIDOC Week celebrations are held across Australia … to celebrate the history, culture and achievements of Aboriginal and Torres Strait Islander peoples. NAIDOC is celebrated not only in Indigenous communities, but by Australians from all walks of life. The week is a great opportunity to participate in a range of activities and to support your local Aboriginal and Torres Strait Islander community.
NAIDOC originally stood for 'National Aborigines and Islanders Day Observance Committee'. This committee was once responsible for organising national activities during NAIDOC Week and its acronym has since become the name of the week itself. Find out more about the origins and history of NAIDOC Week: https://www.naidoc.org.au/about/naidoc-week
You can find out more about NAIDOC WEEK here: https://www.naidoc.org.au/get-involved/2020-theme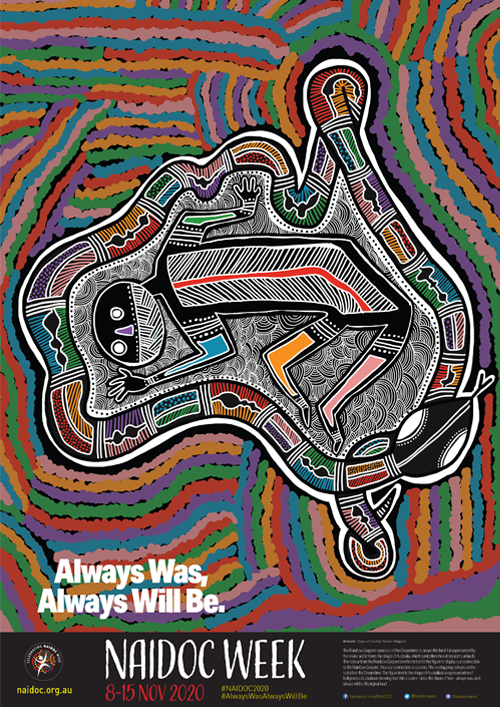 Shape of Land artwork, by Noongar and Saibai Islander man Tyrown Waigana.